Sir William Tyree:
Founder of and inspiration for Tyree Group of companies

"My companies have never stood still. As fast as they have found one way of doing something, they are looking for a better way. And the company that does not do this today is not there for the long haul and will soon be gobbled up or go into receivership."
Address by Sir William Tyree on receiving his Honorary Doctorate at Sydney University, May 16, 2008.
Brochure Centre: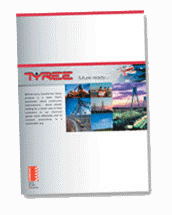 Find different brochures for many of Tyree's Products to download here.